Pinnacle Driving School specialise in Pretest Driving Lessons in Mulhuddart and Naas. With over 14 years experience of Pretest Driving
Lessons we know exactly what standard you need to reach to pass your driving test first time. In order to reach this standard there are 3 stages:
Stage 1 : Identify Faults
Even the most confident drivers accumulate bad habits over time. Quite often Full Licence holders admit that if they were to sit the driving test again they would probably fail. The initial stage of our Pretest driving lesson course is to identify the faults and bad habits. Quite often this will involve coasting/overuse of the clutch, manoeuvres, observations during the manoeuvres, lack of progress, inadequate observations at junctions, not checking blind spots or a further list of possibilities. At the end of the first pretest driving lesson you will have all these faults identified and explained. You will know exactly what needs to be corrected before your driving test.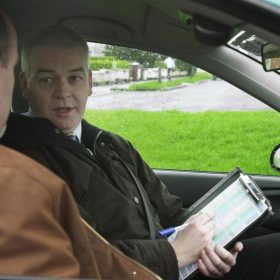 Stage 2 : Correct Faults
Once the faults have been identified, you need to know when you do it, why you do it, and how you should do it. It's no use knowing you are doing something wrong if you are not taught how to do it correctly. The goal is to look into why something happens and correct it from the primary cause. For example, many pupils who book a pretest have an issue with coasting and they know they have an issue with it. What they may not be aware of is that it is caused by them not braking soon enough, not planning the gear change soon enough or not being in the correct gear. Once the reason is identified the fault itself can be corrected much easier.
Stage 3 : Driving Under Driving Test Conditions
Quite often people complain that they drive much worse on the day of their driving test than they normally would. Nerves get the better of them and they make mistakes they wouldn't normally make. If this sounds familiar then the best advice is to do a number of mock driving tests where the driving instructor plays the part of the tester. The big benefit of this is that it climatises the pupil to driving and being marked. Often test candidates get spooked by the silence in the car and being unable to ask for advice on what to do. A mock test helps give an idea of what this feels like so that on the driving test itself it won't feel quite so strange
The other benefit of a mock test is that they highlight areas where "soft" marks are picked up. Often on Pretest driving lessons the learner driver
doesn't fully appreciate the importance of advice on things like observation during the reverse, checking blind spots, keeping up with the flow of
traffic etc but when a mock test highlights a cluster of faults under these categories it helps to focus the attention. It shows what standard the
driving tester is looking for in order to pass your driving test.
Driving Test Car Hire
Do you have a driving test approaching but have no access to a car? There is no need to worry because you can rent a driving school car for the driving test from us. Simply contact us when you have your driving test date and we can arrange a Pretest driving lesson and book you in for the day of your driving test. We recommend meeting 80 minutes before the start of your driving test and doing a 1 hour lesson. The aim in this lesson will be to get you to drive at the right standard, and know what that standard is, so you just follow that right throughout the driving test and pass. So many people fail the test because they try and second guess what the tester is looking for. If you can focus solely on the way you drive, knowing that if you do so you will pass, then you are much more likely to get a positive outcome